Simple DIY housing ideas for your guinea pigs
Who said guinea pig housing had to be expensive? Let's get creative!
The cost of living is rising, but that doesn't mean your guinea pigs need to end up with anything less than the perfect home.
Once you have decided if your guinea pigs are living inside or outside, it's time to take a look at what option will work best for you.
DIY guinea pig housing can be a great option to reuse some of the materials already in your home or to buy at a low cost. It could be a big project or a simple customisation, and this blog will help you get started on some ideas.
DIY Outdoor Ideas
Have you got a garden shed or a children's wendy house long forgotten at the bottom of the garden? If your guinea pigs live outside, this could be a cheaper option for housing than a pre-bought hutch, with a lot more floor space for them to run around.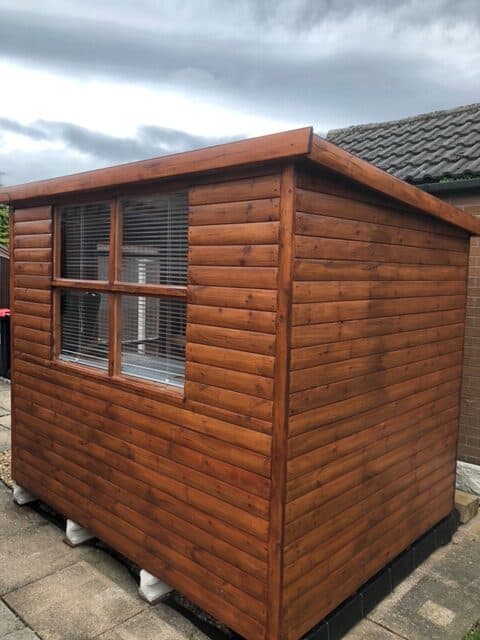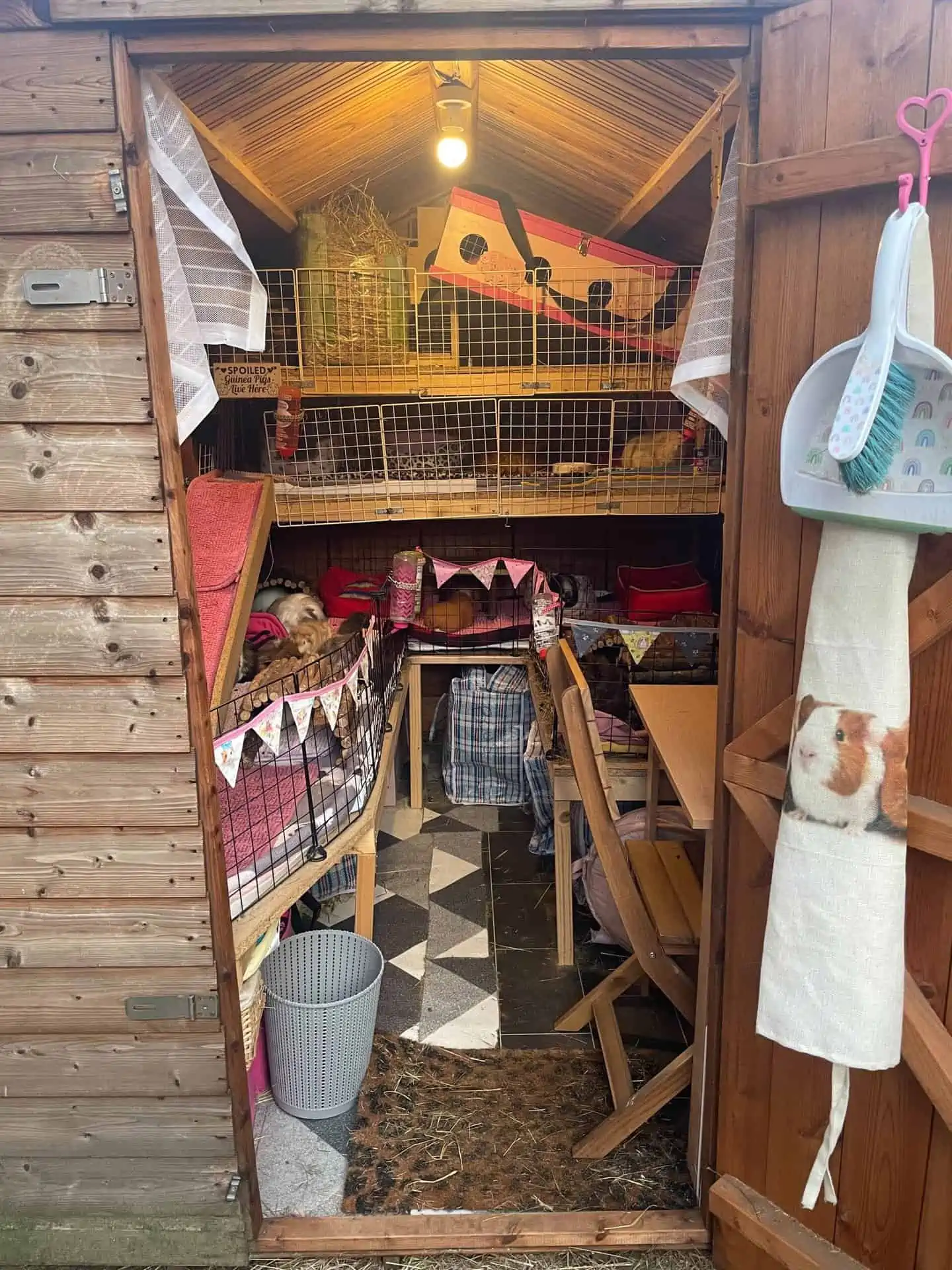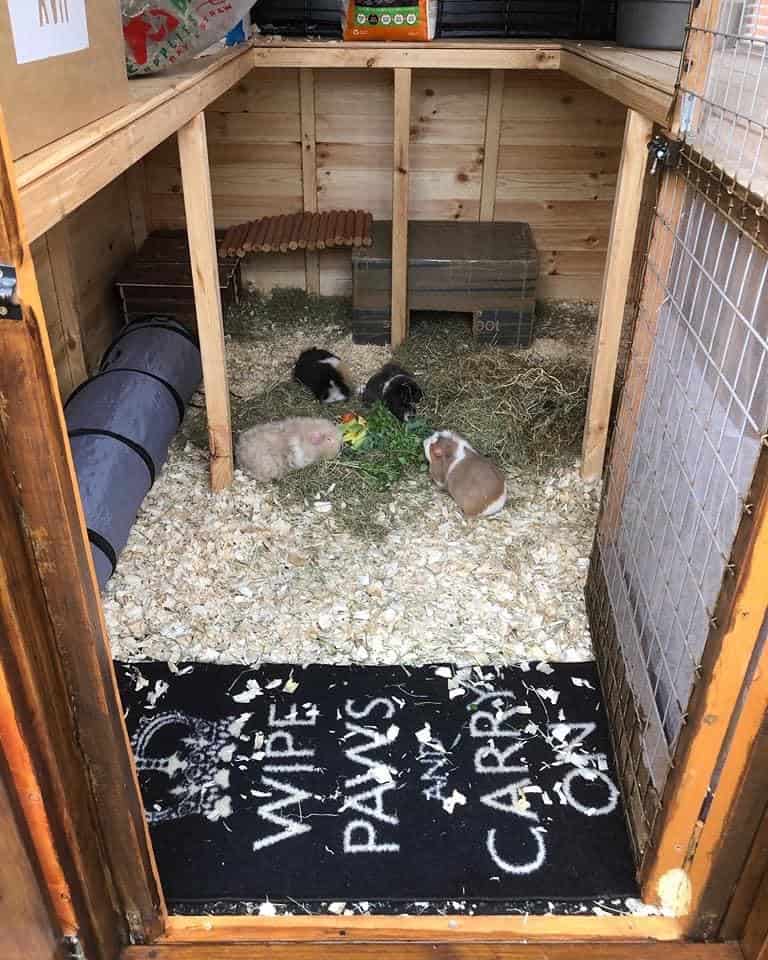 We've had a fantastic example sent to us from Donna, above. Her guinea pig shed is 8ft by 6ft and has a wraparound workbench for storage. It also uses a wire meshed stable door to provide good airflow and thick rubber matting on the floor for easy cleaning, as well as insulated walls and roof to keep the temperature more consistent.
This brilliant example from the owner of 20 sows shows how a shed can be converted with multiple levels and decorated in a fun way. Her 8ft by 6ft shed uses a wooden frame, loft boards, metal grids from a bookcase and corrugated plastic sheets.
It's important to consider if the set-up is predator-proof and weather-proof. Extra insulated layers may need to be added to the shed or wendy house in the winter, or you may need a temporary indoor cage for extreme weather conditions.
DIY Indoor Ideas
You may choose to keep your guinea pigs indoors and there are a multitude of homemade or semi-homemade ideas out there to choose from.
C&C cages
A popular choice if you're not a dab hand at DIY is a C&C cage, which stands for correx/coroplast (the corrugated plastic sheets that make the base) and cubes (the metal grids used for the surrounding). The grids and corrugated plastic sheets can be found online very cheaply or even free when discarded from local sign shops, it's worth asking around!
A homemade C&C cage is easy to put together in your chosen dimensions. It also allows you to expand the size, flat pack for travelling or add a barrier to split up fighting guinea pigs if needed.
An innovative L-shaped cage from @Pigsandpup is a great example of how flexible the C&C cage size can be. This cage measures 213cm by 71cm, with an additional 71cm by 71cm section, and uses 4mm corrugated plastic sheeting for the base, plus 2mm sheets to make additional hay trays.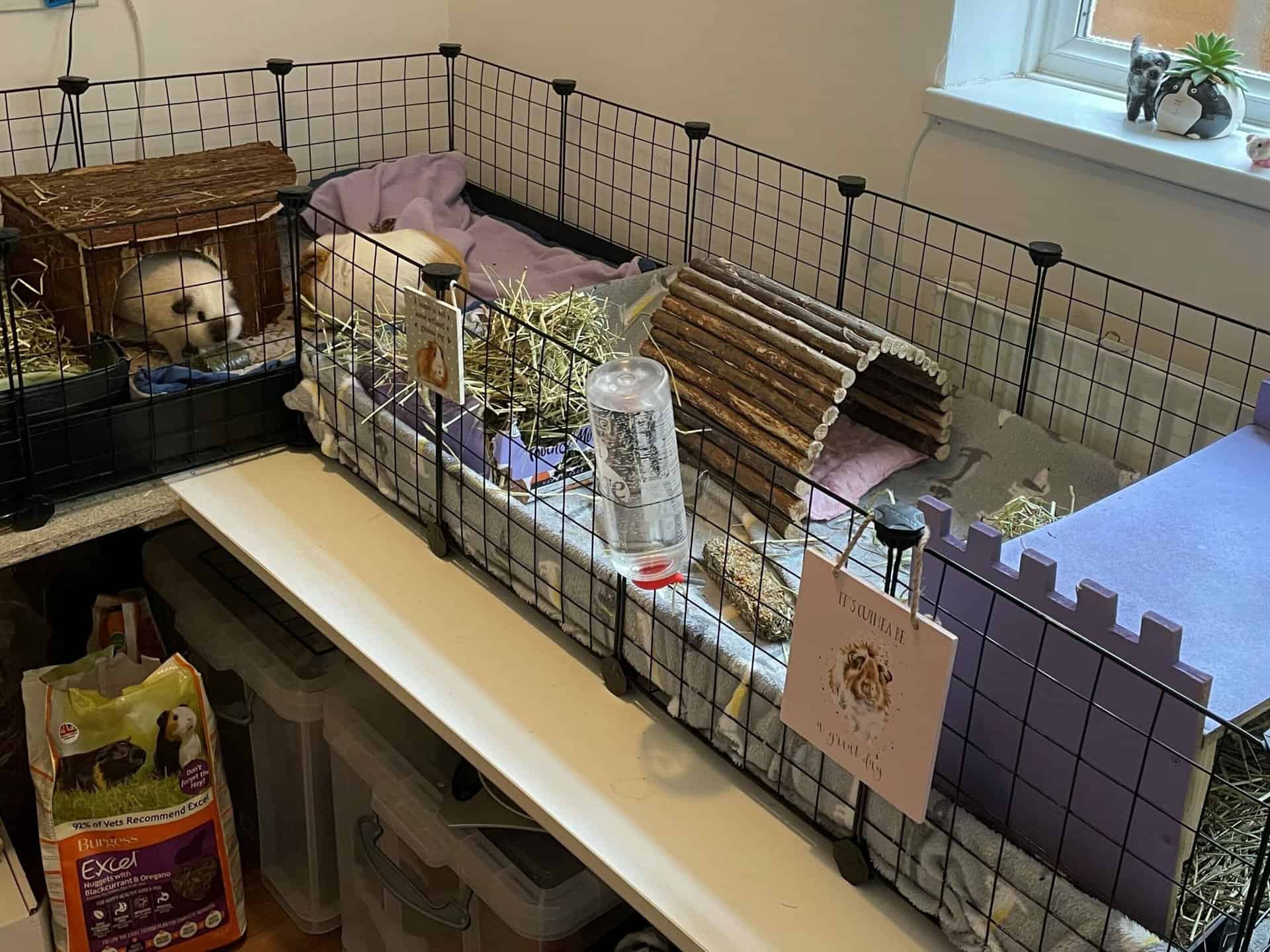 Wooden homemade cages
With a bit more time and a few more tools, you could make your own guinea pig cage from pet-safe wood.
This incredible example from @rescuepotatoes was created using wood and perspex, measuring 265cm by 95cm to create two separate homes. Each level houses four rescue guinea pigs, with the design allowing for a greater amount of floor space. Plus, it's easier to clean as the perspex panels are removable and the wood base is wrapped in a pond liner. It's important to note that pet-safe paint is also used on the wood.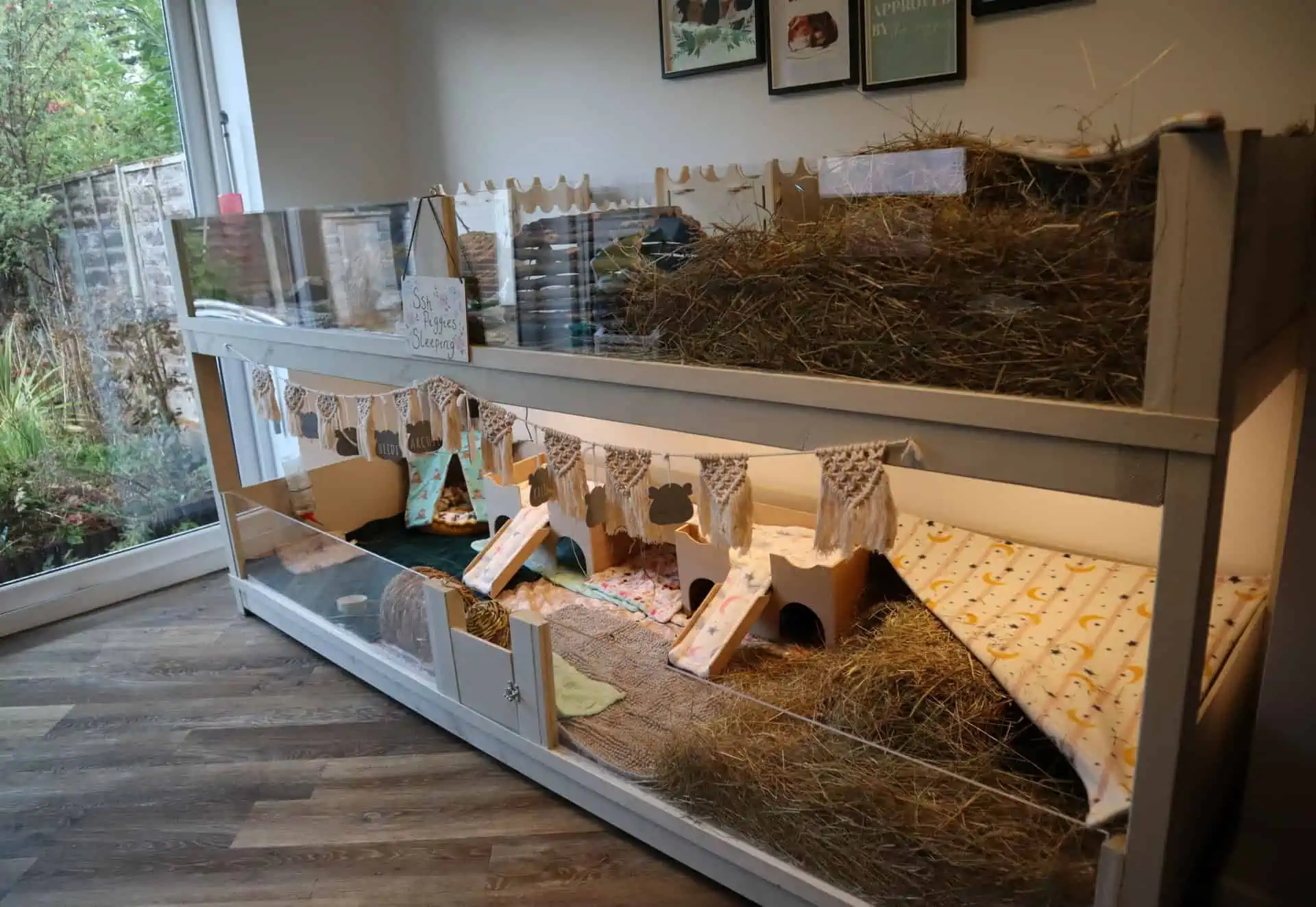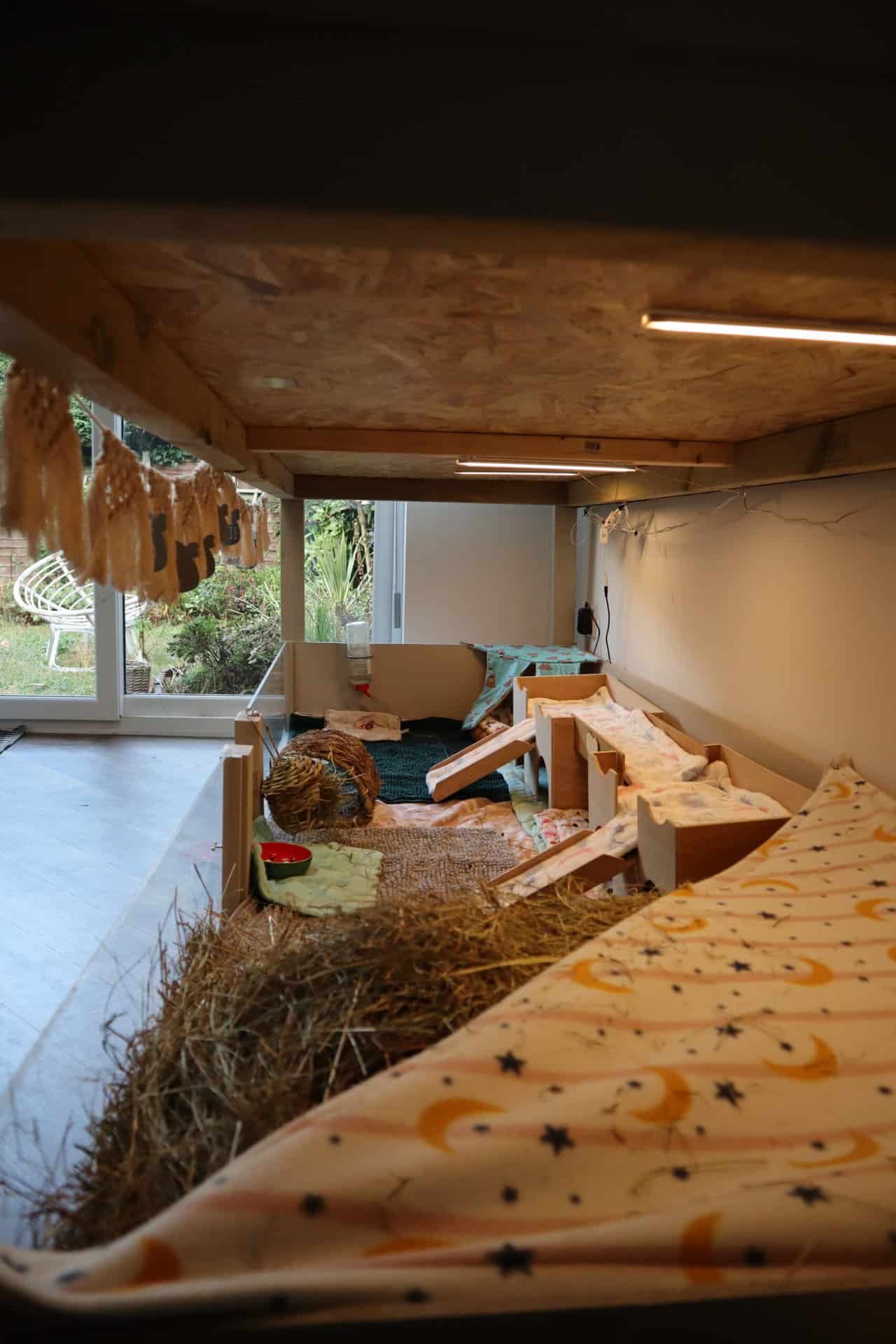 Homemade guinea pig enrichment
Already have a great housing set-up but want to add your own homemade enrichment? Take a look at some great homemade guinea pig toys and cage accessories below.
Toilet roll tube toy
Hiding guinea pig treats in cardboard balls and stuffing hay in the tubes make for great boredom breakers and encourage your guinea pigs' natural foraging behaviours.
A great example from @cornish_guineapigs is below: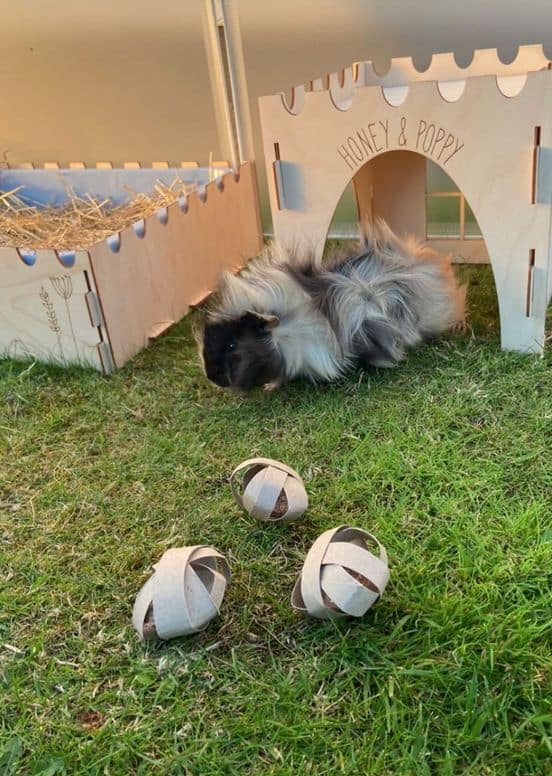 Reused furniture
@pansyted.pigs has used an old child's step to give an old piece of furniture a new lease of life, creating an additional hiding place for their guinea pigs.
With multiple entrances and exits, it's a great new addition to their environment.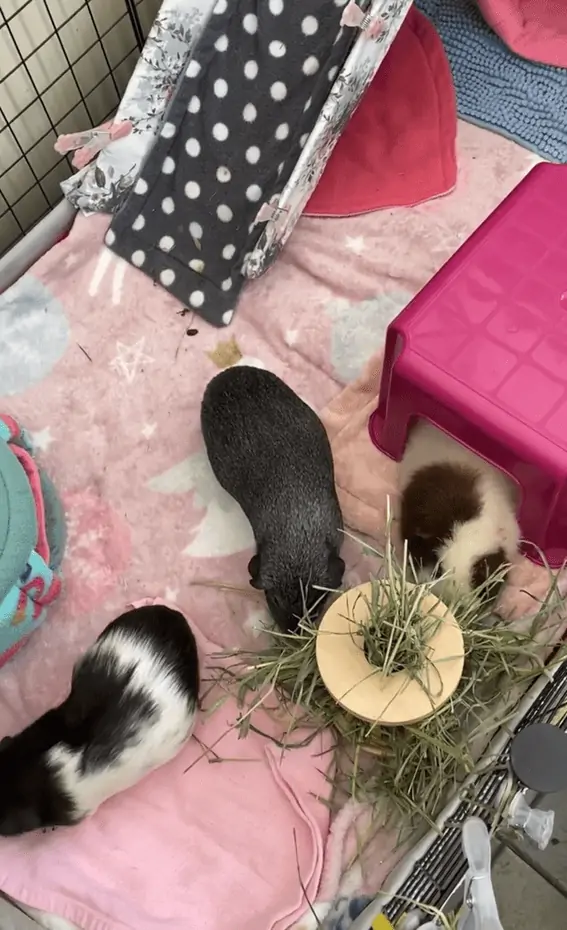 Homemade fleece cage accessories
Fleece is a great fabric for your guinea pigs which is gentle on their feet and perfect for them to snuggle in. @squeakywheekers has some great homemade elements in their guinea pigs' environment.
They have made fleece accessories including a fleece curtain and liners and have made two ramps out of old Ikea drawers, which have ramp covers stuck on with Velcro.
Here are a few tips if you're wanting to make DIY fleece accessories:
Wash the fleece 3 times before use/sewing.
Tumble dry so it shrinks down.
Don't wash the fleece with fabric softener or scented soap.
A zigzag stitch was the easiest to form three layers.


Minimum space recommendations
Whether you are creating a DIY housing set-up for your guinea pigs or just want to add some DIY elements, remember that the minimum recommended size for their accommodation is 1.5m by 1m (length x width) for a compatible pair or trio of guinea pigs.

Blog written and collated by Melissa Orchard, Social Media Manager at Kavee